Multi-faceted, Mooneen is a gifted, dynamic, creative speaker with expertise in the fields of Education, Communication and Real Estate Sales. She brings special understanding, personal vision, and high quality to workshops and seminars. Mooneen is humorous, energetic, professional, and the recipient of National, State of Ohio, and local awards and recognition for her instructional designs, programs, Workshops, training, and presentation skills.

Training topics include:

Anger and Emotional Control

Humor and Attitude

You Are The Center of Your Universe: Your life in Context

Communicating with Style

Public Presentations

Basics Supervisory skills

Safety Strategies for Realtors

Dealing with Difficult People, communications

Self Esteem

Positive Parenting Skills

E-mail Mooneen for scheduling a workshop, coaching, and
training or to inquire about purchasing her artwork.

E-Mail: mooneen1@yahoo.com

© Copyright 1991-2013, all rights reserved under International and Pan-American Copyright Conventions.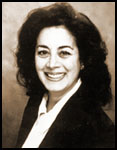 Mooneen Mourad
It is a pleasure to represent the CWRU Community and to work together with
suburban colleges and universities, as well as with the Cleveland public
school system, in order to raise awareness and to provide role models. It
would be difficult to impact in this manner without your support!...I am glad
things went well and I want to thank you for your fine effort!"
- Ag Pytte,
President Case Western Reserve University, Cleveland Ohio
"I am confident that Mooneen Mourad's considerable talents can be put to excellent use in many setting, before many types of audiences. A good
presenter is hard to find. In Mooneen, you have found one."
- Mary Kay Kantz,
Legal Skills Instructor, Case Western Reserve University, School of Law,
Cleveland, Ohio