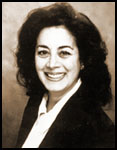 Mooneen Mourad
"I will take a training of yours anytime you teach, you are a role model"
- James G.
"Thank you for the fabulous seminar you presented at Beck Center on Conflict
Resolution. Within two weeks of the seminar I experienced two difficult
situations at... Each time utilizing my new skills, I evaluated the person
and situation, and handled the incidents calmly and effectively. You are an
excellent teacher. I wish I had learned these skills years ago. Many
thanks!"
- Lynda Sackett, Director of Education and Outreach, Beck Center for
the Cultural Arts.